My very own adventure
Although I originally come from Berlin, I've been in Bavaria so long that my Berlin origins seem like more of a footnote. "Home" has no plural – but still I feel at home both here and there, in the same way that I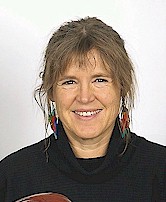 had two fathers, a biological father and a step-father. My stepfather transcribed music, so that I could read music before I knew the alphabet.
I grew up in Germering and went to university in Munich. I spent a lot of time travelling around Munich and elsewhere, always drawn to places where music was made..
It wasn't as if I hadn't played music as a child (the usual recorder, accordeon and piano lessons till I was 15). but I'd never seen a hammered dulcimer, until I met Richard playing one in the "Fraunhofer". I didn't hesitate when he invited me to "Try it out!", and after a couple of hours, we were playing together. I practised like mad, and after 3 weeks we made our first appearance at a Hoagart (traditional music concert) in Geisenbrunn. The MC was Jörg Weickl, later guitarist with the band. After our first piece, he said he'd been worried that my hammers would splinter to pieces in my hands, I was trembling so much.
Richard said during this time that we might just find ourselves stuck with each other. I refused to believe it might be possible – the idea was unimaginable.
Yet when we celebrated our 20th anniversary in the Fraunhofer in 1998, we wondered where the time had gone.

I'd actually studied sociology – not an uncommon choice for the Seventies, but most of us hadn't a clue what to do after graduating. I still meet people from my classes that have ended up somewhere or other, but never where I would have expected them to. I was glad that I had the dulcimer, so that as soon as I'd finished at university I could start giving lessons for Eibl Sepp (highly respected traditional Bavarian musician, founder of a music school) to keep my head above water.. There wasn't a lot to be made from our small theatre appearances in those days – we were paid around DM 30.- for a half-hour spot.

It wasn't until we got together with Gary on double-bass and got to know Achim Bergmann of Trikont Records, who encouraged us to record an LP ("Volksmusik in schwierigen Zeiten": Traditional Music for Troubled Times), that I was faced with the opportunity of making music my career. I didn't hesitate for a second to plunge into the big adventure that was "Fraunhofer Saitenmusik", and I've never regretted my decision.

For me, making music has always meant travelling, meeting new people and making new friends. Many of the people we met from the music have turned into long-standing friends. And we run into each other again and again, at least during concerts and events, or find out the latest news through others. All small, but important moments in a musician's life.

To bring a little financial security into our precarious lives, Richard and I taught at Pierre-van-Hauwe Music School in Inning on Lake Ammersee. After I'd taught hammered dulcimer there for many years, I decided to move to the music school office. It was a decision that many people didn't understand, but it's work that I enjoy. For me it's a kind of compensation – and Peter Schuhmann, the head of the school, is one of those friends I mentioned above.
He encouraged Gary and me and our daughter Katharina to play for years in the Chaots' Orchestra of the music school, and we also travelled frequently with the orchestra and met exceptional people.
At present, I've discovered a new passion in the music school - drumming. I've been learning djembé since autumn 2000 and love being able to play without worrying about having to perform.
I would never have believed that one day I would become a committee type. But after I'd served on the committee of the Music School association in Inning (as Gary still does today), I joined PROFOLK, Germany's association for folk, song and world music, in 1995.

I've been chairperson since 2000 and really enjoy it when in addition to all the PROFOLK work – which to my delight often takes me to the PROFOLK head office in Berlin – I also have a little time to read the wide range of subjects and authors that I love (for instance, on the long train journeys).


PS: The full story of how the "Fraunhofer Saitenmusik" came about was described by Klaus-Peter Schreiner in our anniversary CD "Das Album".