Munich Tales
Today, when I mention that my father was an academically trained musician, people immediately think that it's no wonder I followed in his footsteps. But things weren't quite that simple.

I was born in Munich in 1948 as an illegitimate child. After some efforts on my father's part and my mother's agreement,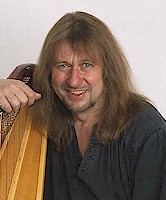 my father was awarded sole custody – and I might actually have had the chance of a musical training, if my father hadn't died in an accident when I was 5. So I grew up with my grandparents, and my grandmother was absolutely determined that the lad would grow up to be a solid member of society and a credit to them.
My first musical opportunity came when I was 9. I was accepted for the boys' choir of the Church of the Holy Spirit, and even made it to soloist. That was also my first contact with celebrity – young Thomas Goppel (important Bavarian politician) was also in the choir. As soon as my voice broke, my promising career came to an abrupt end.
In the years that followed, I bowed to pressure from my grandmother. Passed school leaving exams, started as a trainee in Schwabing Hospital and finally stepped on the first rung of the Civil Service ladder – but only in administration. Just before I finished school, though, I caught Beatles fever like most other youngsters at the time, and was desperate to have a guitar. Our sub-tenant, a fine man, bought me my first instrument when I was just 15. I won't bother listing the ear-bendings he got from my grandmother.
I taught myself to play and practised in my spare time, learning from friends who already knew a chord or two. It was around that time that I started to let my hair grow – much to the annoyance of my grandmother, not to mention my boss. At the time it was a sign of rebellion – today, it's nothing more than habit.
The more I learnt on the guitar, the better the instrument I needed. So I tormented the neighbours with my new electric guitar, firmly convinced that our band would soon be "discovered", trailed through the streets of Schwabing at weekends, busking on mouth-organ and 12-string guitar and warbling Bob Dylan and Donovan – but also some songs of my own in Bavarian dialect.
These performances went down best with other teenagers, of course – mostly girls, too, although I don't know how much of that was due to the music.
In 1971, I was in the English Garden at the Chinese Tower (Munich landmark and famous beer garden) and heard for the first time how good instruments can sound without amplifiers and cranked-up volume. It was Arthur Loibl and Wolfram Kunkel, mesmerising their audience with brilliant music on guitar, balalaika and hurdy-gurdy. My interest in folk and traditional music grew, and I recalled the lovely music of Tobi Reiser that had fascinated me so much as a child.
When the Munich cabaret/music theatre MUH (musikalisches Unterholz, Musical Undergrowth) opened in 1972, my own interest in folk music started to take off, and in October 1973 I finally decided to take up the hammered dulcimer. Once again, it was Arthur from the Chinese Tower who bought me my first instrument. I practised tirelessly in my spare time – all by ear, because as far as I was concerned learning music was nothing but a tiresome chore. After three weeks, I'd built up a small repertoire of pieces, including some of my own, like "Fraunhofer". (The tune was named later – at the time, I didn't know the pub.).
In the same year, I had my first "major gig" with Uwe Kleinschmidt, and started to play with the folk song society of the Munich Cathedral Youth Choir and with colleagues from Neuperlach Hospital.
When the Fraunhofer opened in 1974, it became my second home. Arthur Loibl, Sitka Wunderlich and I spent night after night practising in the Jägerstüber´l (now the theatre bar Kulisse), in the pub's courtyard.

This was our first actual group, the "Fraunhofer Stubnmusi", that formed the basis of today's Fraunhofer Saitenmusik.

Morning concert in Fraunhofer
with Fredl Fesl and Uwe Kleinschmidt
Even then, we ventured far and wide beyond the frontiers of Bavaria for our repertoire, picking up on Irish music, medieval music and traditional Russian melodies – a favourite with Arthur and Sitka. On Sunday mornings, musicians from the entire spectrum of musical interests got together in the Fraunhofer to play informal sessions (e,g, Fangamandl, Elbdieker, the Mehlprimeln, Fredl Fesl etc.)
That was where I met Eibl Sepp, who brought a camera crew along to film one of these sessions - a meeting that would have far-reaching consequences for me.
At this time – one of the best – the Jägerstüber'l also saw the foundation of the Poetenstammtisch (Poets' Meeting-Place), with Friedl Brehm and Ossi Sölderer. Not only were we the regular band, I also looked after the organisation for the "Mundartfreunde" (Friends of Dialect), a gathering that supported up-and-coming Bavarian authors.
A different kind of support came from Peppi Bachmaier, still landlord of the Fraunhofer today, who liked our music and always let us use the premises for our events.
At one of these events in 1975, I met my half-siblings Sigi, Erika and Heidi, and also my mother – a meeting that would change my life.
Sigi and Erika, but also Friedl Brehm persuaded me to finally give up my Civil Service job. And when my mother gave me a harp (which I had been wanting for a long, long time), I finally decided to become a professional musician, turning my back on the Civil Service once and for all on May 1st, 1976.
New harp – new life!!
Now I couldn't manage without finding a music teacher and learning music theory and harmony – but I had plenty of time to do it.
I earned a living playing with the Fraunhofer Stubnmusi, which was becoming more and more popular, by teaching guitar for Munich Arts Council and by working in Musikhaus Bauer, a music shop on Marienplatz, and in the Fraunhofer, where my status changed from regular guest to tenant in November 1976. Two empty rooms at the back of the theatre were my new home – and the starting-point of the group as it is today - and would remain so for the next 12 years.
Meeting Heidi Karutz (now Zink) in the spring of 1978 was a happy coincidence.
Heidi was fascinated by the sound of the hammered dulcimer, and didn't need much persuasion to take it up. By late summer, she was making great strides.
The zither player Arno Sautter, from Eresing on Lake Ammersee, joined us, and we played together alongside the activities of the Fraunhofer Stubnmusi.

When Arthur, Sitka and I finally went our separate ways in the autumn of 1978, the way was clear for a new beginning.

Heidi with Urs Klauser in Switzerland
At that point I was concentrating entirely on the harp, and might have given up hammered dulcimer for good if Eibl Sepp hadn't made a second appearance.
In 1979, he opened a school for traditional Bavarian music, and was looking for suitable teachers. So we became music teachers overnight, and also got a thorough training in Bavarian music at the same time. Eibl Sepp's mark can still be heard in some of the pieces we play today. And it was the start of a secondary activity that I still pursue today, though at a different school.
| | | |
| --- | --- | --- |
| Playing with Sepp Eibl and friends | | |
The rest is history. At first, we played with a collection of friends, including Ernst Hoffmann, Ulrike Zöller, Regina Willecke, Jochen Schlemmermeyer and Jörg Weickl.
And in 1981, Gerhard Zink joined us on bass to complete the line-up of the Fraunhofer Saitenmusik.
The three of us travelled a lot in the years that followed, touring through Bavaria and Austria as the musicians for Sigi Zimmerschied´s 1st Passau Folk Theatre, and later touring through many countries in Africa and Asia with the Goethe-Institut.
And we love going up to East Frisia to practice our "Boßeln" skills (East Frisian variant of bowling).

Annual Advent concert at Vogelwirt in Eresing
After a long time playing as a trio, in 1992 we decided to take on a guitarist to make a quartet. There were plenty of good reasons: I had been commissioned to write the music for an open-air show in Schongau ("Die Hexe von Schongau", The Witch of Schongau), and the Goethe-Institut had organised a tour for us to Pakistan, India and Sri Lanka.
Michael Klein was our accoampanist on the guitar in 500 concerts. He was succeeded by Dieter Lich from 1998 to the summer of 2001. For a variety of reasons, we then decided to resume our musical journey with our tried and tested line-up as a trio. Michael Klein still joins us as our guest on special occasions.
In 1982 I received a Performing Arts Sponsorship Award from the city of Munich. For me, this was a sign of recognition and support for all our efforts, and an encouragement to continue.
So we are.